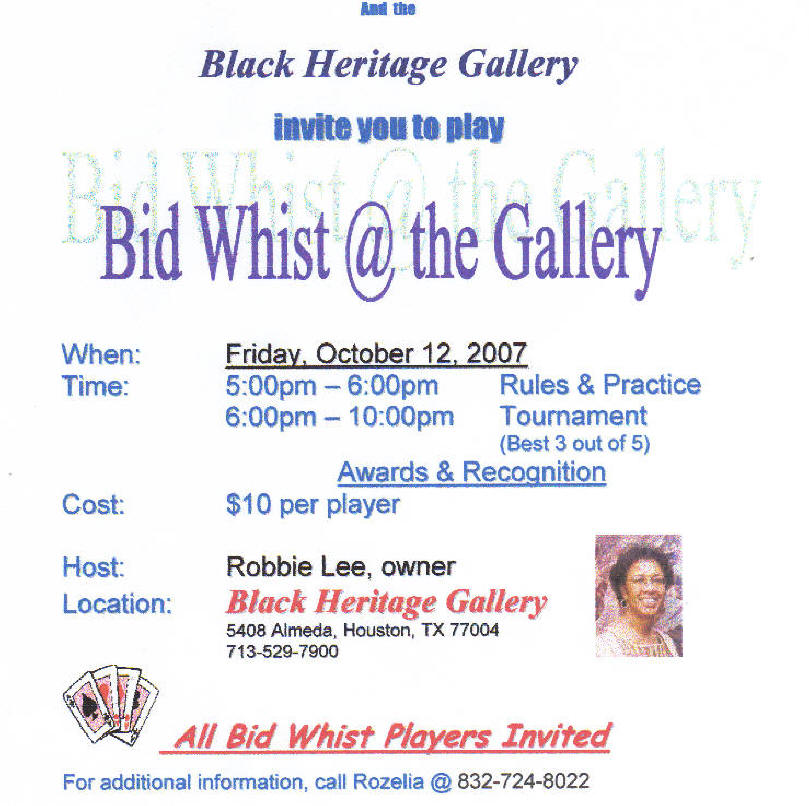 The 4Aces Bid Whist Club is teaming up with the Black Heritage Gallery to combine the sport of bid whist with art and entertainment.
The oldest black art gallery in Houston is an ideal place to meet singles and couples, network, and establish long-term friendships, and most of all, win games, run Bostons, and boast about it.
Non-bid whist players can attend with their spouses, mates, and/or friends for a Friday night out to enjoy seeing and purchasing museum-quality collections of African art, sculptures, dolls, etc.
Bid Whist @ the Gallery™ gives African Americans an opportunity to have fun; compete against other bid whist players; and enjoy the original work of some of the most noted African & African-American Artists in American history. Artists include Annie Lee, Ava Cosey (local artist and avid bid whist player), Elizabeth Catlett, Romare Bearden, John Biggers, Brenda Joysmith, Varnette Honeywood, and Ellis Wilson (seen on TV's Cosby show), Lionel Lofton, and many others.
Annie Lee's eight-print Bid Whist series: "I Said Seven", "Misdeal", "Out the Back Door", "Put Some Skirts on the Door", "Set Card", "That's After Whist", "Renege", and the most popular "Six No Uptown" are available at the gallery. Players recognize the art titles as bid whist jargon.

Click Here For A Video Tour Of The Black Heritage Gallery
Driving Directions To The Gallery