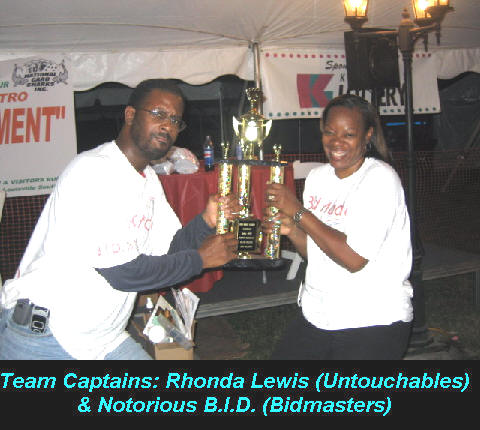 The Untouchables
Repeat As
Elite Champions
Story By: The Notorious B.I.D.
Photos By: Tresa Williams

The Elite Whist Society Spring/Summer 2007 season champion has been decided. It was indeed a family affair. Bidmasters' sponsor, Club Celebrity, is operated by the Clark family (Mike and B.B.) and the Untouchables' sponsor, Club Temptation, is operated by the Clark family (Shiloh and Rob).
The championship came down to the Bidmasters vs. the Untouchables. The Bidmasters had them on the ropes early, 3-1 after the first round. The Untouchables came back to tie it after two rounds, 4-4. After three rounds it was 7-5 in favor of the Untouchables. The Untouchables went on to win 10-7 to become the first repeat champions in the history of the Elite Whist Society of Detroit.