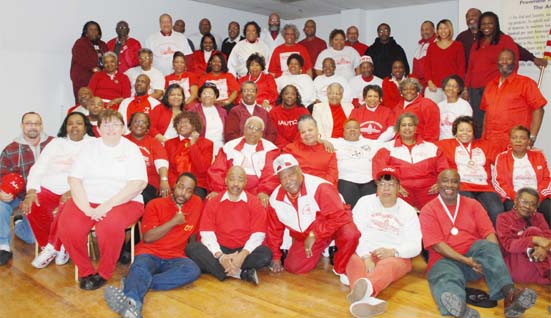 METROPOLITAN WHIST
& PINOCHLE CLUB
Of The Washington, DC Area
OUR CLUB MOTTO:
"WE ARE THE BEST YOU KNOW"
NEW PLAYERS ARE WELCOME
Guests Are Welcome Any Friday
Except The 3rd Friday Of The Month.

"MWPC operates in accordance with its Constitution and By-laws. Under these By-laws to become a member you have to be sponsor/recommended by an active member in good standing. A potential member should visit the MWPC five (5) times (first visit is free and additional four visits there is a $7.00 fee). After these 5 visits Players may submit an application for membership (if we are not at capacity) to the Membership Committee. The Committee reviews all applications and answer general questions and supply information regarding the club. Applications are submitted to the President and you can become a member of the MWPC by a majority vote. The club holds card games each Friday night from 8:00 PM until 1:00 AM.
The Club Is Housed At The:
The American Legion
Oxon Hill Post 248
5600 Janice Lane
Temple Hills, MD. 20748

Driving Directions
Directions to 5600 Janice Lane, Temple Hills MD 20748
We are located on the upper level at the American Legion 248 in their ballroom. Members and guests cannot BYOL. Please leave your alcohol at home or in your car. You may purchase drinks and beer at the Legionís cash bar at reasonable prices. You may smoke in the downstairs bar area but not in the upstairs ballroom where the club is housed. Guests will be charged $7.00 to join us but no charge on your first visit. The club will have non-alcoholic beverages and food for our guests each Friday. We welcome all bid whist and pinochle players.

MWPC OFFICERS:


General membership meetings are held quarterly




to discuss club business.

Most members reside in the Washington Metropolitan Area.
The Officers Are:

Laurie James

President

Danette Smalls

Vice President

Timothy Johnson, Jr.

Treasurer

Gwen Eldridge

Recording Secretary

Robin Ellis

Financial Secretary

Barbara Goss

Asst. Financial Secretary

Barbara Williams

Business Manager

Fred Vest

Asst. Business Manager

Steve Dawkins

Sergeant-At-Arms

Curtis Barrett

Assistant Sergeant-At-Arms