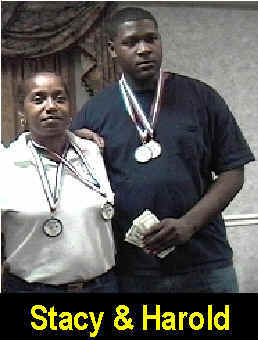 Stacy & Harold Win Saturday Night Fever
Stacy Of New York & Harold of the Elite Whist Society Of Detroit just met and teamed up and won all 3 games in the preliminary rounds. Then they swept through the "Sweet 16 Playoffs" to take the Saturday Night Fever tournament. They also took 2nd place at the Mid-Atlantic Title Tournament held earlier the same day. Forty five teams (90 players) competed in this tournament. The tournament was held in the Quality Inn Hotel on April 26, 2003.
Congratulations To Stacy & Harold.