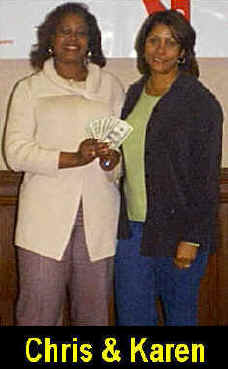 Chris & Karen
Win Los Angeles Friday Night Special Tournament
Christine & Karen of the Miami 7 No Bid Whist Club won 2 out of 3 games in the preliminary rounds. They then swept through the "Sweet 16 Playoffs" to take the Los Angeles Friday Night Special.
The tournament was one of the events held at the Bicycle Playing Cards Grand Prix Bid Whist Marathon. The event was held at the Embassy Suites Hotel in Los Angeles on Feb. 28 - March 1, 2003.
Congratulations To Chris & Karen.