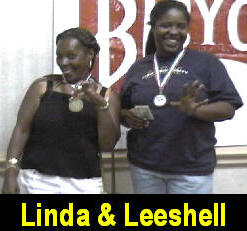 Linda &
Leeshell
Win Saturday Morning Tournament
Linda & Leeshell Of The Elite Whist Society Of Detroit won 2 out of 3 games in the preliminary rounds. Then they swept through the "Sweet 16 Playoffs" to take the Bicycle Playing Cards Miami Saturday Morning Bid Whist Championship. The Tournament was held on August 23, 2003 at the Embassy Suites Hotel. This team also won $2000 in the Pittsburgh Main Event Tournament held in July, 2003. They also took the 2nd place prize in the 2002 Bicycle National Championship held in October, 2002.
Congratulations to Linda & Leeshell.