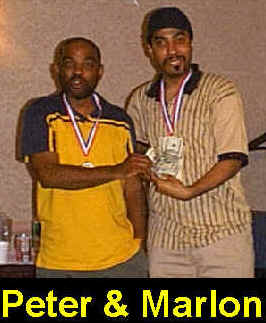 Peter & Marlon

Win The Saturday
Night Fever Tournament
Peter & Marlon of The New York Whist Lovers won only one of 3 games in the Preliminary Rounds, but they had the most points of the teams that won only one game. They managed to be the 16th team to make it into the "Sweet 16 Playoffs". They then swept through the "Sweet 16" to win the Bicycle Playing Cards New York / Newark Saturday Night Fever Bid Whist Tournament. The tournament was held on June 28, 2003. This team also won a Grand Prix Event in Cleveland last year.
Congratulations To Peter & Marlon.