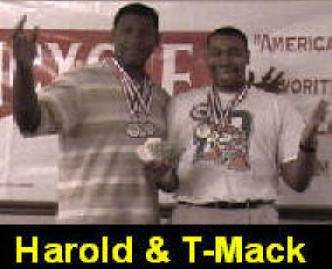 Harold &
T-Mack
Win The Saturday Night Fever
Harold & T-Mack Of The Elite Whist Society Of Detroit ended up their great weekend by winning 2 of 3 games in the preliminary rounds. Then they swept through the "Elite 8 Playoffs" to take the Bicycle Playing Cards Pittsburgh Saturday Night Fever Bid Whist Championship. The tournament was held on July 12, 2003. It was a great weekend for this team. They also took 1st Place in the Saturday Morning Tournament and took 2nd place in the Main Event Tournament. It was the 1st time that a team won 3 medals in one Grand Prix weekend.
Congratulations to Harold & T-Mack.