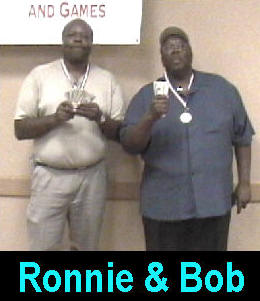 Ronnie & Bob
Win $2000
In The "Atlanta
Main Event Tournament"
Ronnie & Bob of the Raleigh Six No Bid Whist Club Of North Carolina won 2 of 3 games in the Preliminary Rounds. They then swept through the "Sweet 16 Playoffs" to take 1st Place in the "Atlanta Main Event" Tournament. This is the first national tournament victory for Ronnie & Bob.
The 2004 Atlanta "Main Event" Tournament was part of the Bicycle Playing Cards Atlanta Grand Prix Bid Whist Weekend held September 17-18, 2004. Congratulations to Ronnie & Bob.