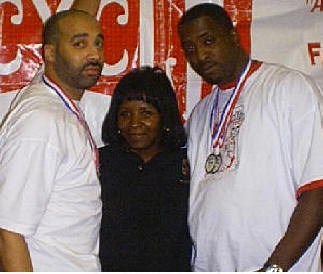 Rob & Reggie
Win The "Saturday Night Fever" Tournament
Rob & Reggie of the D.C. area won 2 out of 3 games in the preliminary rounds. They then swept through the "Sweet 16 Playoffs" to take the "Saturday Night Fever" tournament. The tournament was part of the Bicycle Playing Cards Grand Prix Bid Whist Weekend held February 7, 2004 at the Embassy Suites Hotel in Los Angeles. They also took the 2nd Place prize in the "Early Bird" tournament held earlier that day. Rob & Reggie were really hot. They were the team with the most "Bostons" throughout the weekend. Pictured in the center is Debra of the L.A. Whistmasters, she along with Chris Jones and the "Rise & Fly Fun Club", were instrumental in coordinating all of the L.A. area Bid Whist clubs in a hospitality suite and all sorts of extras in helping make the L.A. Grand Prix an enjoyable experience for all players. We thank them for all of their hard work.
Congratulations to Rob & Reggie, Saturday Night Fever Champs.