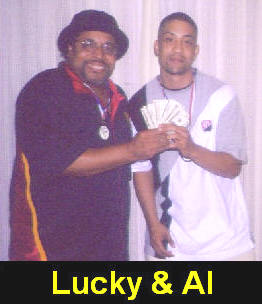 Lucky & Al
Win $2,000
In The 2005
Chicago
Main Event
Lucky & Al won 2 of 3 games in the Preliminary Rounds, they then swept through the "Sweet 16" Playoffs to take the 2005 Chicago Main Event Championship.

The Main Event Tournament was part of the Bicycle Playing Cards
Chicago Bid Whist Weekend held July 15-16, 2005.
Congratulations to Lucky & Al.