2004 Bid Whist Tour
Final Rankings
Click The Link At The Bottom Of This Page For
The Complete 2004 Bicycle Bid Whist Tour Results.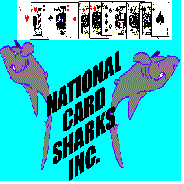 Out Of The Thousands Of Bid Whist Players In The USA, It Is An Honor
To Be Anywhere On The List Below.
Final 2004 Rankings
1st Place
Main Event
1st =10 Points

1st Place Other Tournaments
1st Place = 8
All
Tournaments
2nd Place = 6
All
Tournaments
3rd Place = 4
All
Tournaments
4th Place = 2
Note: If The Player Is Ranked 10th Or Higher
Click On Their Name, To View Their 2004 Performance Record.
Rank

1st
Name

Last
Name

Total
Pts.

Home
Area

1st

84

DC Area

1st

84

DC Area

3rd

46

Tampa

3rd

46

Tampa

5th

44

New York

6th

42

DC Area

7th

38

DC Area

8th

36

Las Vegas

9th

26

Detroit

9th

26

Las Vegas

11th

Linda

Christian

22

Detroit

11th

Leeshell

Montgomery

22

Detroit

11th

Geoffrey

Harrell

22

Detroit

11th

Paulette

Kendrick

22

Miami

15th

Shaina

Looks

20

Los Angeles

15th

Cathy

Garvin

20

Los Angeles

15th

Patricia

Gates

20

Los Angeles

15th

Bill

Bell

20

Detroit

15th

Tony
Edwards

20

Atlanta

20th

Jermaine D.

Martin

18

Los Angeles

21st

Shawn

Bailey

16

DC Area

21st

Herman

Pegues

16

Las Vegas

23rd

Enos
Campbell
14
Atlanta

23rd

David L.

Brown

14

Las Vegas

23rd

Marlon

Daniel

14

New York

23rd

Peter

Foga

14

New York

23rd

Chris

Gay

14

Miami

23rd

Mitchell

Jefferson

14

Detroit

23rd

Lynda

Brown

14

Miami

30th

Lucky

Frazier

12

Atlanta

30th

Mike
Scott

12

Atlanta

30th

Gregory A.

Brown

12

Miami

30th

Eleanor

Burks

12

New York

30th

Donnau

Cooper

12

Los Angeles

30th

Marcus

Lewis

12

Detroit

30th

Rhonda

Lewis

12

Detroit

30th

Betty

Mingo

12

New York

30th

Kenneth

Wade

12

Los Angeles

30th

Gary

Jackson

12

Houston

30th

Bert

Johnson

12

Dallas

41st

Ronnie
Dickerson
10
Raleigh

41st

Henry (Bob)
Roberts
10
Raleigh

41st

Kathy
James
10
Austin

41st

Linda
Watson
10
Dallas

41st

Elise

Barr

10

Pittsburgh

41st

Earl

Johnson

10

Miami

41st

Karen

Hodges

10

Miami

41st

Willie

Knight

10

Tampa

41st

Thelma

Miles

10

Detroit

41st

SheLa
Williams
10

New York

41st

Gene

Simmons

10

Miami

41st

Andy

Watson

10

Miami

41st

Kenneth

Wilson

10

Pittsburgh

41st

Fernando

Scott

10

Winston-Salem

55th

Cliff

Charley

8

Detroit

55th

Claude

Ferguson

8

Detroit

55th

Joyce

Gaines

8

Orlando

55th

Tom

Hamilton

8

Durham

55th

Lady-T

8

Detroit

55th

Dashea

Jones

8

Detroit

55th

Wanda

Jones

8

New Orleans

55th

Aaron
Mercadel
8
New Orleans

55th

Azziem

Mohammed

8

Detroit

55th

Theoshia

Phillips

8

Detroit

55th

Shannon
Mays

8

Houston

55th

Seth

Tate

8

New Orleans

55th

Milton

Leggett

8

Houston

55th

Kevin

Bassett

8

Houston

55th

Lester R.

Thomas

8

Durham

55th

Gloria J

Watts

8

New York

55th

Etta

West

8

Los Angeles

55th

Theresa

Wright

8

Orlando

73rd

Yammi

Andrews

6

Detroit

73rd

Chris
Jones

6

Los Angeles

73rd

Linwood
Woodhouse
6
Atlanta

73rd

Dee

Holmes

6

Atlanta

73rd

Wade
Corbett
6
Atlanta

73rd

Karen
Rigby
6
Atlanta

73rd

Phyllis
Primus
6
Atlanta

73rd

Thomas

Covington

6

Pittsburgh

73rd

Donald

Delancy

6

Miami

73rd

Tru

Dobbins

6

Pittsburgh

73rd

Carter
Bryant

6

Plano, TX

73rd

Ben

6

Plano, TX

73rd

Karen

Ezell

6

New York

73rd

Devin

Foreman

6

Los Angeles

73rd

Renda

Gailes

6

Detroit

73rd

Marie

Jackson

6

New York

73rd

Martha T.

Johnson

6

Los Angeles

73rd

Janet

Linsey

6

Atlanta

73rd

Jody

McCullough

6

Orlando

73rd

Marvin

Patterson

6

Detroit

73rd

Teresa

Perkins

6

Las Vegas

73rd

Bill

Pinder

6

Miami

73rd

Mike
Coaxun
6

Las Vegas

73rd

Hassan
Corbn
6

Las Vegas

73rd

Patricia

Rasberry

6

Chicago

73rd

Anthony

Toone

6

Detroit

73rd

Gena

Weber

6

New Orleans

73rd

Collette

Williams

6

Miami

73rd

Tresa

Williams

6

Nashville

73rd

Kenneth

Wright

6

Orlando

73rd

Mark

Younkins

6

Chicago

104th

Lillie

Allen

4

Los Angeles

104th

Ruby

Bell

4

Chicago

104th

Melvin

Blake

4

New York

104th

Douglas

Capers

4

Detroit

104th

Katrena

Dear

4

Chicago

104th

Will

Foreman

4

Cleveland

104th

Shelia

Gibson

4

Los Angeles

104th
Malcom
Haynes
4
Detroit

104th

Monica
Hedgewood
4
Detroit
104th

Cynthia

Jackson

4

Los Angeles

104th

Nannette H.

Case

4

New York

104th

Lenora

Clinton

4

New York

104th

Rick

Kindred

4

Miami

104th

Janice

Martin

4

Chicago

104th

Brad

Merritt

4

Atlanta

104th

Dennis

Moore

4

Los Angeles

104th

Patricia

Moore

4

Detroit

104th

Tracy

Moore

4

New York

104th

Lydia

Lewis

4

Atlanta

104th

Tina

Robinson

4

Atlanta

104th

Lou

Williams

4

New York

104th

Sinsey

4
New Orleans
104th
Lavarn
Peters
4
New Orleans

104th

Gwen
McDade
4
Detroit
104th
Tony
Brown
4
Detroit
104th
Shasha
4
Detroit

104th

Bernice

Neeley

4

Los Angeles

104th

Ronald K.

Noble

4

Atlanta

104th

Arthur

Peters

4

Cleveland

104th

Chester

Stover

4

Miami

104th

Richard

Williams

4

Los Angeles

104th
Karen
Williams
4
Los Angeles
136th

Che'

Alexander

2

Atlanta

136th

Shawn

Bailey

2

DC Area

136th

Ronald

Bellamy

2

Detroit

136th

Deaveraux

Berry

2

Detroit

136th

Renee'

Blount

2

Detroit

136th

Bill

Brown

2

Detroit

136th

Fred

Collins

2

New York

136th

Swade

Davis

2

Atlanta

136th

Robin

Eagan

2

Detroit

136th

Dianne

Flounory

2

Las Vegas

136th

Thyra

Griffin

2

Los Angeles

136th

Ray

Harris

2

Atlanta

136th

Fulton

Hodges

2

New York

136th

Nortina

Hubbard

2

Detroit

136th

Khalifa

McZeal

2

Los Angeles

136th

Shaun

Moore

2

New York

136th

Rose

Moreland

2

Macon, GA

136th

Debra

Myers

2

Miami

136th

Fanny

Pitts

2

Detroit

136th

Kitty

Slaughter

2

Detroit

136th

Alice

Smith

2

New York

136th

David

Smith

2

New York

136th

Renee

Smoot

2

Detroit

136th

Shirley

Wesley

2

DC Area

136th

Merland

Williams

2

Detroit

136th

Michael

Williams

2

New York

136th

Ann

Woodson

2

Detroit

136th

Wanda
Atterberry
2
Chicago

136th

Terjuan
Lister
2
Bermuda

136th

Ron
Clark
2
Chicago
136th
Chris
McMorris
2
Chicago

136th

Paula
Brooks
2
Killeen, TX

136th

Brian
Williams
2
Killeen, TX

136th

Lester
Crosby
2
Detroit

136th

Theresa
Pettus
2
Detroit

136th

Zara
Madison
2
Los Angeles
Total Number Of Nationally Ranked

Bid Whist

Players = 1

71

CLICK HERE TO SEE THE RESULTS OF THE
ENTIRE 2004 TEN CITY BID WHIST TOUR