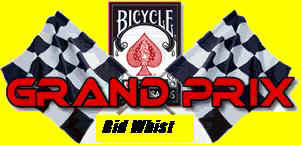 2003 Bicycle
Playing Cards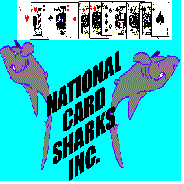 Grand Prix Bid Whist Tour
National Rankings
National Rankings Through August 9, 2003.
Final 3 Grand Prix Tournaments Of 2003 Are:
Aug. 22-23 In Miami, Sept.19-20 In Atlanta, October 17-18 In Las Vegas.
Click The Link At The Bottom of This Page For Complete Info.
Come On Out & Play! Bid Whist Tournaments Are Open To All.
1st Place
Main Event
1st =10 Points

1st Place Other Tournaments
1st Place = 8
All
Tournaments
2nd Place = 6
All
Tournaments
3rd Place = 4
All
Tournaments
4th Place = 2
Note: If The Player Is Ranked 10th Or Higher
You May Click On Their Name,
To View Their 2003 Performance Record.

National
Rank

First
Name

Last
Name

Points
Earned

Home
Area

1st

38

Pittsburgh

1st

38

Pittsburgh

3rd

36

Detroit

4th

32

D.C. Area

4th

32

D.C. Area

6th

30

Maryland

6th

30

Virginia

8th

22

Detroit

9th

18

New York

9th

18

New York

9th

18

Los Angeles

9th

18

Miami

9th

18

Miami

14th

Mark

Spearman

16

Detroit

14th

Allen

Swayze

16

Detroit

14th

Eleanor

Burks

16

New York

14th

Betty

Mingo

16

New York

14th

Michelle

Lewis

16

Los Angeles

14th

Terry

Williams

16

Los Angeles

20th

Stacy

Haskins

14

New York

20th

Debra

Finley

14

Los Angeles

20th

Beatrice

Anderson

14

San Jose

20th

Bob

Beck

14

San Jose

20th

Herman

Pegues

14

Las Vegas

20th

Stephanie

Pegues

14

Las Vegas

26th

Denise

Gillyard

12

New York

26th

Ulysses

Parker

12

New York

26th

Linda

Christian

12

Detroit

26th

Leeshell

Montgomery

12

Detroit

26th

Erika

Enge

12

Los Angeles

26th

LaDonna

Miller

12

Los Angeles

32nd

Marlon

Daniels

10

New York

32nd

Peter

Foga

10

New York

32nd

Terjuan

Lister

10

Bermuda

32nd

Lou

Williams

10

New York

32nd

Elryee

Jones

10

Los Angeles

32nd

Donnau

Cooper

10

Los Angeles

32nd

Shay

Jones

10

Los Angeles

32nd

Paulette

Kendrick

10

Miami

32nd

Debra

Myers

10

Miami

32nd

Ken

Wade

10

Los Angeles

32nd

Roxanne

Robinson

10

Pittsburgh

32nd

Linda

10

Detroit

44th

Ernest

Collins

8

D.C. Area

44th

Woodie

Johnson

8

D.C. Area

44th

Portia

Davis

8

Detroit

44th

Rhonda

Lewis

8

Detroit

44th

Christine

Gay

8

Miami

44th

Karen

Hodges

8

Miami

44th

Chris

Jones

8

Los Angeles

44th

Melvin

Blake

8

New York

44th

Tracy

Moore

8

New York

44th

Trevor

Brockman

8

Oakland

44th

Bill

Swinney

8

Oakland

44th

Willie

Hoyrst

8

Los Angeles

56th

Carolyn

Ford

6

D.C. Area

56th

Pat

Sandidge

6

D.C. Area

56th

Alice

Smith

6

New York

56th

David

Smith

6

New York

56th

Barry

Mack

6

Los Angeles

56th

Jennifer

Robinson

6

Los Angeles

56th

Lovett

Williams

6

Pittsburgh

56th

Wayman

Humphrey

6

Pittsburgh

56th

Eva

Duncan

6

Las Vegas

65th

Simone

Best

4

New York

65th

Roxanne

Law

4

New York

65th

Timothy

Johnson

4

D.C. Area

65th

Joe

Moore

4

D.C. Area

65th

Mitchell

Jefferson

4

Detroit

65th

Tresa

Williams

4

Detroit

65th

Theresa

Pettus

4

Detroit

65th

Portia

4

Detroit

65th

Richard

Wilford

4

Las Vegas

65th

Patrice

Hughley

4

Los Angeles

65th

Gladys

Ransom

4

Los Angeles

65th

Sharon

Humphrey

4

Pittsburgh

65th

Verrona

Gibson

4

Pittsburgh

65th

Willie

Foreman

4

Cleveland

65th

Arthur

Peters

4

Cleveland

65th

Hosea

Mills

4

Virginia

65th

Wilson

Mills

4

Oakland

65th

Al

Simmons

4

Los Angeles

65th

Linda

Johnson

4

Los Angeles

65th

Karen

Williams

4

Los Angeles

85th

Theresa

Gary

2

D.C. Area

85th

Katie

Johnson

2

D.C. Area

85th

Mo

Mohammed

2

Detroit

85th

Licia

Phillips

2

Detroit

85th

Marvin

Ragland

2

Cleveland

85th

Jeanette

Raum

2

Cleveland

85th

Jackie

Bell

2

Los Angeles

85th

Cynthia

Chevalier

2

Los Angeles

85th

Yolanda

Jett

2

Los Angeles

85th

Fulton

Hodges

2

New York

85th

Shaun

Moore

2

New York

85th

Nikki

Marshall

2

Miami

85th

Cassandra

Smith

2

Miami

85th

Bill

Bell

2

Detroit

85th

Yammi

Andrews

2

Detroit

85th

Carolyn

Kelley

2

New York

85th

Robert

Kelley

2

New York

85th

Stanley

Daglow

2

Oakland

85th

Donna

McDaniel

2

Oakland

85th

Debra

Ross

2

Tucson

85th

Marsha

Ross

2

San Fran.

85th

Catherine

Garvin

2

Los Angeles

85th

Patricia

Gates

2

Los Angeles