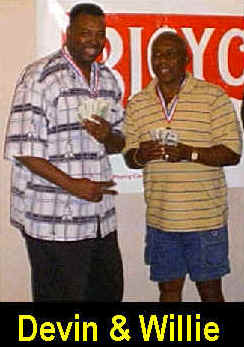 Devin & Willie
Win The San Fran/Oakland
Friday Night Special Tournament
Devin & Willie of the Los Angeles area won all 2 of 3 games in the preliminary rounds. Then they swept through the "Sweet 16 Playoffs" to take the San Francisco/Oakland. Friday Night Special Tournament. It was the first time these guys have ever played together. They haven't even played a fun game together. Devin had a great weekend. He took the 2nd place prize at the Saturday Morning Tournament held the next day. The tournament was part of The Grand Prix Bid Whist Marathon held May 30th & 31st, 2003. Congratulations To Elise & Ken.