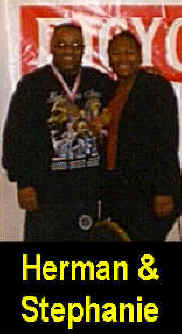 Herman & Stephanie
Win The San Francisco / Oakland Grand Prix
Saturday Morning Tournament
Herman & Stephanie of the 702 Bid Whist Club Of Las Vegas, swept through the "Sweet 16 Playoffs" to take the San Francisco/Oakland Saturday Morning Tournament. This tournament was part of The Grand Prix Bid Whist Marathon held May 30th & 31st, 2003. It was the first National Card Sharks Inc, Bid Whist tournament victory for this married couple. They also won the 2nd Place Prize at the Bay Area Bid Whist Championship tournament held later in the day Congratulations To Herman & Stephanie.