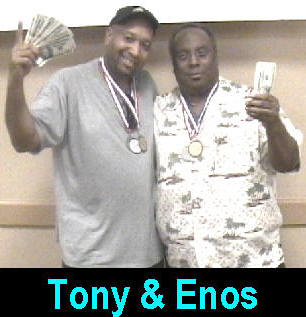 Tony & Enos
Win The"Atlanta
Saturday Night Fever Tournament"
Tony & Enos from Atlanta won 2 of 3 games in the Preliminary Rounds. They then swept through the "Sweet 16 Playoffs" to take 1st Place in the "Atlanta Saturday Night Fever" Tournament. It was a great weekend for Tony. He and Enos also took home the 2nd Place Prize in the Early Bird Special tournament held earlier that day, and Tony along with another partner Linwood took home the 2nd Place Prize in the Friday Night Special tournament held the previous night.
The 2004 Atlanta "Friday Night Special" Tournament was part of the Bicycle Playing Cards Atlanta Grand Prix Bid Whist Weekend held September 17-18, 2004. Congratulations to Tony & Enos.