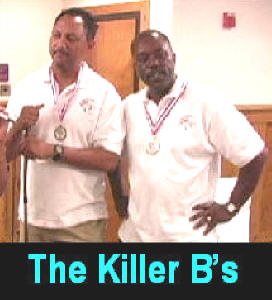 The Killer B's
Win $2000
In The 2006
Minneapolis
Main Event
The Killer B's (Bruce & Ben) of Atlanta won 2 of 3 games in the Preliminary Rounds, they then swept through the Playoffs, to win the Minneapolis Main Event Championship. The Killer B's had a great weekend. They also took 1st Place in the Friday Night Tournament, and 2nd Place in the Saturday Early Bird Tournament.
The Main Event Tournament was part of the Bicycle Playing Cards Minneapolis Bid Whist Weekend held June 30 -July 1, 2006.
Congratulations to the Killer B's.